Bogor closes 8 health facilities after 336 healthcare workers infected - ANTARA English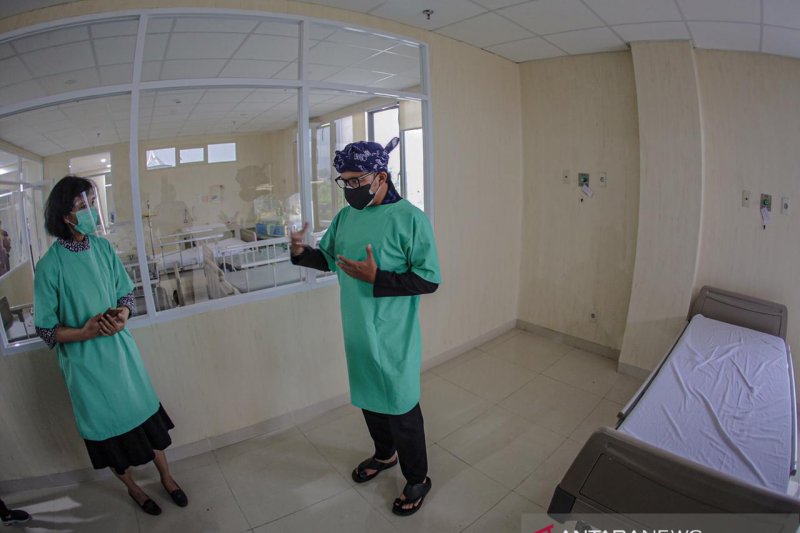 Bogor (ANTARA) - Some 336 healthcare workers contracted COVID-19 and fell ill, thereby leading to the Bogor municipality taking the decision to shut down eight health facilities, the city's mayor, Bima Arya Sugiarto, stated.
"Currently, 336 healthcare workers in Bogor City have tested positive for COVID-19, and they are sick," Sugiarto noted during a visit to the Marzoeki Mahdi Hospital (RSMM) here on Sunday.
Most of the affected healthcare workers worked at RSMM, he remarked.
"Owing to the fact that many healthcare workers were exposed to COVID-19, the handling of COVID-19 patients is slowing down over the last week. The number of COVID-19 cases has increased to 78 percent," he noted.
Sugiarto stated that consequently, the situation of COVID-19 cases in Bogor City had raised even greater concerns. Moreover, the bed occupancy rate (BOR) for COVID-19 patients at 21 referral hospitals in Bogor City is almost full.
In fact, Bogor City Hospital, which provides 120 beds for COVID-19 patients, is fully occupied.
"The situation right now is that it is almost beyond our scope to handle it," he stated.
Sugiarto noted that the percentage increase in COVID-19 cases in Bogor City this week had reached 78 percent, while the death rate for COVID-19 cases this week had reached 125 percent.
"These numbers are already very worrisome," he pointed out.
To address the drastic spike in COVID-19 cases, Bogor authorities have imposed stricter restriction measures.
Stricter micro-scale restrictions on public activities (PPKM) have been enforced at the neighborhood level.
In the meantime, Tempo media quoted a report by the Indonesian Doctor's Association (IDI) that a total of 405 Indonesian doctors had died of COVID-19 since the government announced its first case on March 2, 2020. Related news: Bogor records significant single-day spike in COVID-19 cases on Friday
Related news: Bogor City's daily COVID-19 cases on Tuesday peak at 120
EDITED BY INE
2021-06-28 07:23:34Z
https://en.antaranews.com/news/177702/bogor-closes-8-health-facilities-after-336-healthcare-workers-infected