GKI Yasmin dispute to be settled this year: Bogor Mayor - The Jakarta Post - Jakarta Post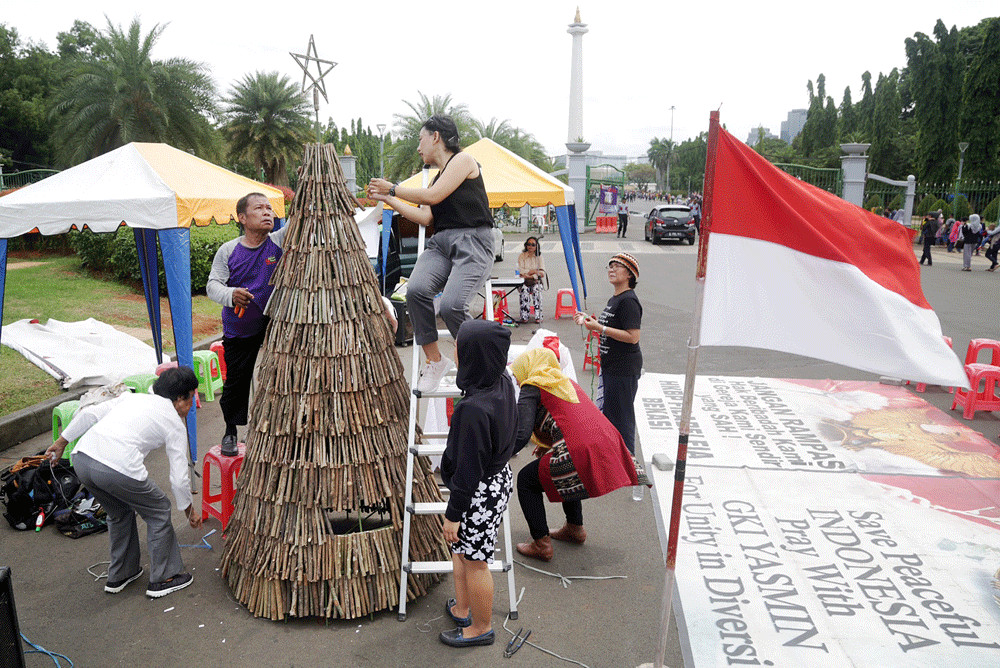 The city administration of Bogor in West Java has vowed to resolve a dispute over a church that has been refused a building permit for years despite a Supreme Court ruling in its favor.
Bogor Mayor Bima Arya said there were three options to solve the dispute: either to build a new church at a new location with a new building permit (IMB), to relocate the church or to apply a land-sharing scheme.
"I'm very optimistic that the GKI Yasmin [dispute] will be resolved soon. I hope there will be good news for Christmas this year," he said on Tuesday as quoted by tribunnews.com.
"We have agreed [to focus] on the options for a solution; we will no longer discuss legal issues from the past," Bima added as reported by tempo.co. "This is a significant step in a process of years.
Bima went on to say that the progress came after meetings involving the Ombudsman and a group of seven people comprising city officials as well as representatives of the Muslim community and GKI Yasmin.
In response to the statement, Ifan Haryanto, the head of the Bogor City chapter of Indonesia's largest Islamic organization, Nahdlatul Ulama (NU), said through a press release made available to The Jakarta Post that the group backed the city administration's move.
"[We] fully support the Bogor mayor's policy that aims at realizing a peaceful and tolerant city of Bogor, in line with the NU's principle of appreciating differences and respecting those with different life principles," he said.
Back in 2008, the Bogor city administration issued a decree freezing the GKI church's building permit, in response to protest from some residents.
The Bandung State Administrative Court (PTUN) and the State Administrative High Court in Jakarta ruled in favor of the church and ordered the administration to revoke the decree. In 2010, the Supreme Court also ruled in favor of GKI Yasmin.
However, Bima's predecessor, Diani Budiarto, revoked the church's building permit in 2011, forcing the congregation to hold sermons, including Christmas celebrations, outside the building for years, since they did not have a place to worship.
2019-08-15 06:12:00Z
https://www.thejakartapost.com/news/2019/08/15/gki-yasmin-dispute-to-be-settled-this-year-bogor-mayor.html