Jokowi welcomes Malaysian king's visit with Bogor Botanical Gardens tour - The Jakarta Post - Jakarta Post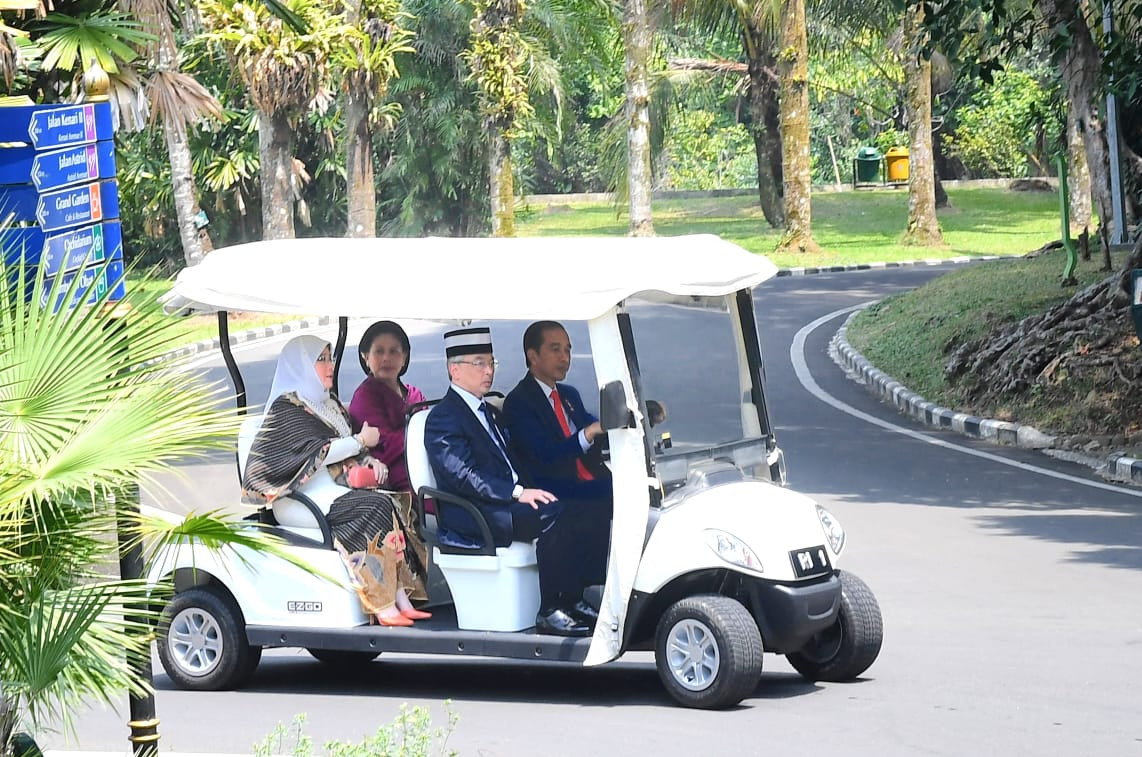 President Joko "Jokowi" Widodo welcomed Malaysian King Sultan Abdullah Sultan Ahmad Shah to Indonesia on Tuesday with a drive around the Bogor Botanical Gardens near Bogor Palace in West Java.
Sultan Abdullah and his wife Raja Permaisuri Agong Tunku Hajah Azizah Aminah Iskandariah, along with their daughters, arrived at the palace on Tuesday morning and were welcomed with a lavish ceremony hosted by Jokowi and First Lady Iriana. 
Following the ceremony, Jokowi and Sultan Abdullah planted a damar tree as a symbol of good bilateral ties between the two neighboring countries. 
The President later took the wheel of a white golf cart and drove the Malaysian head of state around the Bogor Botanical Gardens, during which they were seen talking casually. Iriana and Azizah joined them for the drive, sitting in the backseat of the cart.
Jokowi later hosted a lunch banquet with the Malaysian king's entourage, during which the President expressed how the country was honored to receive Sultan Abdullah.
"I can give assurances that this visit will be able to strengthen the ties between our countries, Malaysia and Indonesia," Jokowi said in his speech before making a toast that wished for the wellbeing and success of the king and his family. 
Sultan Abdullah also expressed his appreciation for Jokowi and Iriana as well as the Indonesian people who warmly welcomed his entourage. 
"I pray so that the relations between Malaysia and Indonesia will always be maintained and blessed with everlasting prosperity [and] harmony," Sultan Abdullah said. 
Indonesia is the second country after Brunei Darussalam to welcome Sultan Abdullah in a diplomatic visit since he took an oath as the 16th king of Malaysia in January, according to the Indonesian Foreign Ministry.
During a bilateral meeting on Tuesday, Jokowi and Sultan Abdullah discussed various issues, including the need for the two countries to fight together against the European Union's plan to phase out crude palm oil (CPO) from biofuel by 2030, the ministry said. 
They also explored possible ways to strengthen collaboration between state energy holding company Pertamina and Malaysia's state-owned oil giant Petronas. 
"The President also spoke about Indonesian citizens living in Malaysia [...] many of whom faced legal problems. We indeed respect [Malaysian] laws, but we also request for [Indonesian nationals] there to be given fair treatment," Foreign Minister Retno LP Marsudi said. (afr)
2019-08-27 13:12:00Z
https://www.thejakartapost.com/seasia/2019/08/27/jokowi-welcomes-malaysian-kings-visit-with-bogor-botanical-gardens-tour.html