Thousands of Bogor residents proclaim independence from plastic - The Jakarta Post - Jakarta Post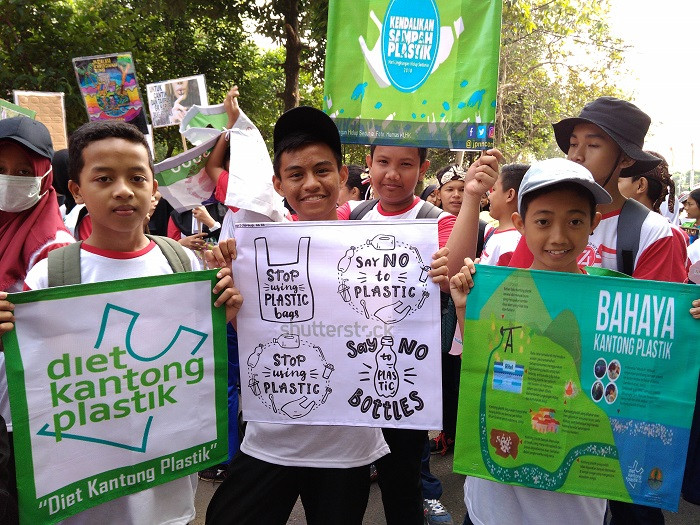 Theresia Sufa
Bogor
Thousands of Bogor residents in West Java have declared their independence from plastic as part of a recency-wide environmental campaign as well as Indonesia's 74th Independence Day.
The declaration ceremony was held at Tegar Beriman field in Cibinong district on the same day the Bogor regency administration officially enacted Regental Regulation No. 13/2019 on the reduction of plastic and Styrofoam usage, under which it will also carry out the Bogor Antik (Green Without Plastic) program.
The event was attended by Bogor Regent Ade Yasin, his deputy Iwan Setiawan, Bogor Environment Agency officials and students, who crowded the streets in celebration of both the anti-plastic campaign and the country's Independence Day.
"This policy applies to modern markets, shopping centers, hotels, restaurants, cafes and all Bogor-based agencies, state-owned and private-owned companies, as well as educational institutions," said Ade Yasin during Saturday's ceremony.
He added that the regulation aimed to reduce plastic usage by 50 percent, then urged Bogor residents to stay committed to the campaign by also cleaning up their plastic waste properly and avoid throwing garbage into the regency's rivers.
"The people are expected to slowly adjust themselves to the attitude of independence from plastic bags. It is time to start using leaves to wrap our food and other materials that can easily decompose," said Ade. – JP
2019-08-18 08:46:00Z
https://www.thejakartapost.com/news/2019/08/18/thousands-of-bogor-residents-proclaim-independence-from-plastic.html