Bogor Zoology Museum: Symbol of national scientific progress celebrates 125th anniversary - The Jakarta Post - Jakarta Post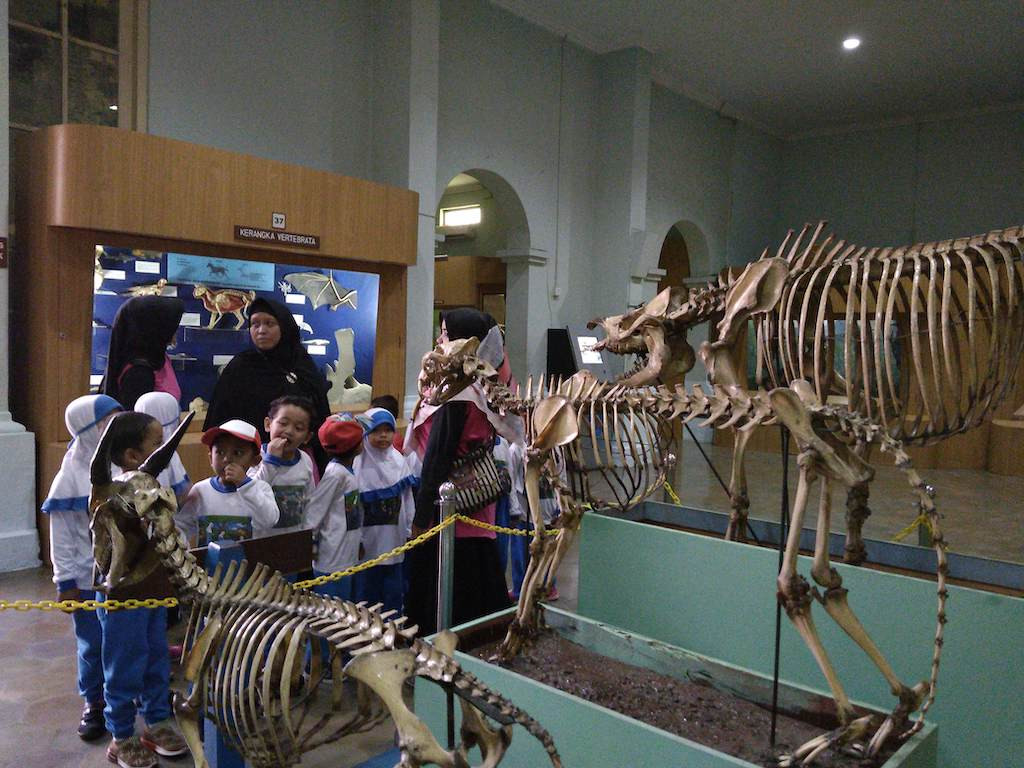 The Bogor Zoology Museum in West Java, home to the largest collection of zoological specimens in Southeast Asia, celebrates its 125th anniversary this year. 
The museum – situated within the Bogor Botanical Gardens – was founded in 1894 by Dutch zoologist JC Koningsberger and initially called the Landbouw Zoologish, as a laboratory that mainly conducted research on agricultural pest insects. 
Today, the museum boasts a vast collection of specimens that comprise fish, reptiles, amphibians, mammals, insects and invertebrates, among others. It is now regarded as a historical symbol of scientific progress, as well as of the development of research on the diversity of fauna across the archipelago. 
According to the Bogor Zoology Museum, a great bulk of the museum's collection was transferred to the Widyasatwaloka building at the Indonesian Institute of Sciences (LIPI) complex in neighboring Cibinong in 1997. The Widyasatwaloka building, which was officially opened by then vice president Tri Sutrisno at the tail-end of Soeharto's regime, would go on to become LIPI's zoology research arm. The Widyasatwaloka is not open to the public. However, students and other academics may still apply to visit. 
The majority of the exhibits left at the old Bogor Zoology Museum are replicas. The museum, which opens daily, has seen a steady increase in public attendance, which now averages 1,417 visitors – mostly students – per day. The museum recorded more than 500,000 visitors throughout 2018. 
Read also: Jakpost explores Bogor
Bogor Zoology Museum head Cahyo Rahmadi said the majority of the museum's exhibits were moved to the Widyasatwaloka since there was very little space left for new specimens and scientific activities. 
He added that the museum had undergone numerous renovations and upgrades to its facilities because most of them had been more than 20 years old. The museum's current collection consists of 122 exhibits showcasing 954 specimens from across the country, in addition to 3 million scientific samples for research purposes, he added. 
To date, the Bogor Zoology Museum has changed its name 12 times – it is now known as the LIPI Biology Research Center's Zoologicum Bogoriense Museum, Cahyo said. Meanwhile, the old building is still called the Bogor Zoology Museum. 
Bogor Deputy Mayor Dedie Rachim said the city hosted a bevy of museums around the Botanical Gardens. In addition to the Bogor Zoology Museum, the city is also home to the Soil Museum (owned by the Agricultural Ministry), the Presidential Museum, the Indonesian Museum of Natural History and the Pembela Tanah Air (Peta) Museum. 
However, he said the public was still unfamiliar with these museums because of a lack of media exposure. The mayor said he aimed to soon promote scientific tourism in Bogor. (rfa/wng)
2019-09-02 03:01:00Z
https://www.thejakartapost.com/life/2019/09/01/bogor-zoology-museum-symbol-of-national-scientific-progress-celebrates-125th-anniversary.html