West Java to build waste treatment sites to turn plastic into raw materials, fuels - The Jakarta Post - Jakarta Post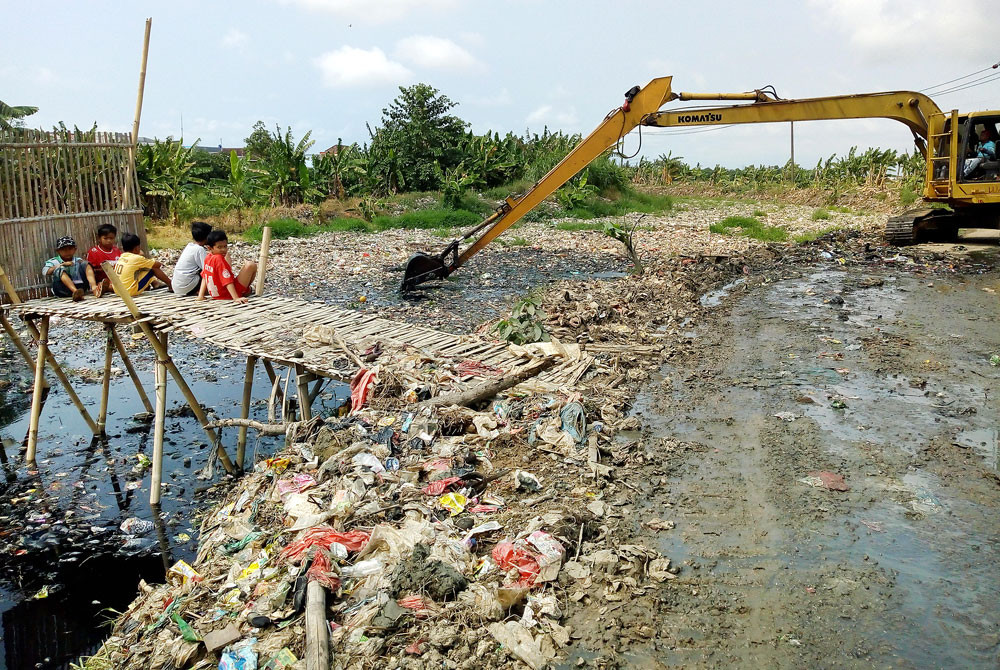 The West Java administration will construct waste treatment sites that process plastic waste into diesel fuels and raw plastic materials that it hopes will be used by 2023.
The project is a collaboration between the provincial administration and United Kingdom-based plastic processing company Plastic Energy. The company has helped initiate feasibility studies that the administration is currently running.
Governor Ridwan Kamil said the facilities would be built in five locations, including Bekasi, Tasikmalaya and Cirebon. The other two would be at landfills in Sarimukti, West Bandung, and Galuga, Bogor.
"If everything goes well, the project in Sarimukti and Galuga will begin this year. We are finishing the detailed engineering design [for both projects] this month," Ridwan said after a meeting with Plastic Energy in Bandung on Wednesday.
There will be two plants in each location. One plant, which will take nine months to build, will separate plastic waste from other waste. Meanwhile, the other plant will include a petrochemical processor that will take around two years to construct.
At the treatment facilities, domestic waste collected from households will be separated based on material, as materials like paper, cardboard, glass and aluminum cannot be processed into hydrocarbons.
Plastic Energy CEO Carlos Monreal said his company allocated at least 50 million euros (US$55 million) for the construction of waste treatment facilities in each location.
Read also: British company to invest $200m in West Java waste-to-fuel plants
"In Europe, we recycle 5 to 6 million tons of plastic in a year. We are aiming for 10 million tons by 2025," Carlos said. He added the company would ensure the plants in Indonesia follow exact protocols as well as the health and safety standards implemented by their European counterparts.
The company uses patented Thermal Anaerobic Conversion technology to convert end-of-life plastics, turning plastic waste into a new feedstock to create clean recycled plastics or alternative low-carbon fuels.
"We raise the plastic's temperature to convert it into a fluid of melted plastic. After that, we take it into our reactor, where we raise the temperature once again to turn it into gas. We condense and distill the gas into a different liquid which depends on its function," Carlos said.
One ton of end-of-life plastic waste can be processed into 816 liters of chemical feedstock (TACOIL), to be used for the production of virgin oil.
Plastic Energy has been building such facilities in Spain for three years. The company signed an agreement last year with Saudi Arabia-based chemical manufacturing company SABIC to provide feedstock for the production of certified circular polymers in the Netherlands.
West Java's Ridwan said the waste treatment facilities would be part of an upcoming final waste treatment and processing site (TPPAS) project in Legok Nangka, Bandung. The project has yet to commence.
"The handling of Greater Bandung's waste, in theory, requires a waste-to-energy process in Legok Nangka, as well as in Sarimukti," Ridwan said.
Read also: Regions lag behind in waste management planning
The TPPAS Legok Nangka government project is deemed as a solution for waste in Greater Bandung, which dumps its trash at a 20-hectare landfill in Sarimukti. The project is scheduled to be ready by 2022.
To prevent any delays in TPPAS Legok Nangka construction, the administration decided to expand the Sarimukti landfill by preparing an additional 20 to 30 ha of land.
West Java Environment Agency head Bambang Riyanto said the administration had proposed the expansion plan to state-owned forestry firm Perum Perhutani and was obliged to pay compensation of Rp 4.5 billion ($329,000) for the additional land.
Separately, Bogor Mayor Bima Arya said the new waste treatment site would help the operation of the 38-ha Galuga landfill, which receives waste from Bogor and its surrounding areas.
"Five-hundred tons of waste is dumped every day in Bogor, 80 tons of which are plastic waste. This will be processed later by Plastic Energy in Galuga, while the non-plastic waste will go to Nambo. We will prepare the system," Arya said, referring to a landfill in Lulut Nambo, Bogor regency.
The Nambo landfill is an ongoing waste-processing facility project covering 55 ha of land. It is projected to manage 1,600 to 1,800 tons of waste per day coming from Bogor municipality, Bogor regency, South Tangerang and Depok.
The project was expected to finish in November or December this year, Ridwan said. (syk)
2020-02-06 08:51:00Z
https://www.thejakartapost.com/news/2020/02/06/west-java-to-build-waste-treatment-sites-to-turn-plastic-into-raw-materials-fuels.html