Spreading Far from Bogor - Tempo English Magazine
RICO Sihombing had a fever on Thursday, March 12. He was having dry coughs and difficulty breathing. When admitted to a hospital in Kemayoran, Central Jakarta, he was told to have thoracic scan. "I was also instructed to take the swab test," he said when contacted via telephone on March 25. Mucus samples were taken from Rico's nose and mouth to detect the coronavirus.
Four days before that, Rico had had another bout of fever. Based on laboratory testing results, he was diagnosed with the dengue fever because his platelet count was only 81,000, lower than the minimum of 140,000. Five days after his swab test on March 17, Rico, a penatua or assistant priest in the Immanuel Western Indonesia Protestant Church (GPIB), Gambir, Central Jakarta, was positively diagnosed with the Coronavirus Disease 2019 or Covid-19.
Rico had no idea when and where he contracted the disease, caused by a virus originated from Wuhan, China. While he did not go overseas prior to the test, Rico did attend a number of events where crowds gathered. On March 1, he was working in the church. He also went to a meeting in Central Jakarta and a GPIB conference in Gunung Geulis, Bogor, West Java, for three days since March 5. All of his families and colleagues who came in close contact with him during the event had undergone the corona rest. They all came out negative, according to Rico.
However, Rico also said that he came to the GPIB Synod Assembly Annual Gathering in Aston Hotel, Bogor, on February 26 to 29. The event was attended by around 700 GPIB management members from all over Indonesia. Seated on the podium, Rico led the synod forum with four other persons. One of them is a priest working in Bahtera Hayat Batam GPIB, Riau Islands. On March 19, or two days afer Rico was identified as having a positive case, the priest was also diagnosed with Covid-19. The woman priest passed away three days after her test result came out.
Batam City Health Agency Chief Didi Kusmarjadi confirmed that the priest was one of the patients who contracted the disease from the Bogor's GPIB gathering cluster. With the virus' incubation period of between two to 14 days—as stated by the World Health Organization (WHO)—Batam City Administration immediately traced every person who had come in contact with the priest. There were at least 77 persons who were in close proximity with her. Some of them are still undergoing self-quarantine at home. Others are being quarantined in Tanjung Uncang Subsidized Apartment, Batam.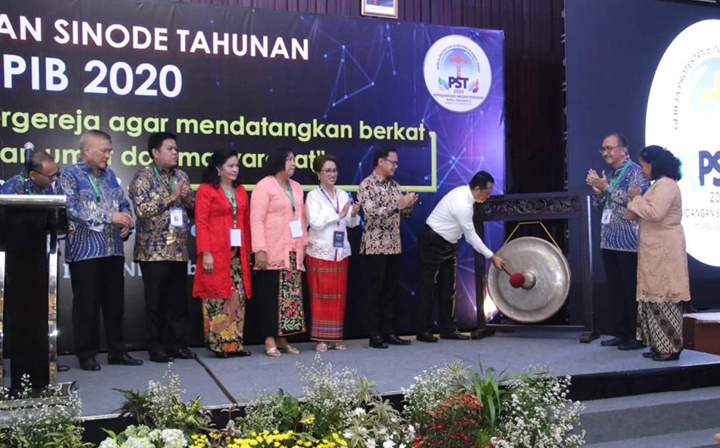 People's Consultative Assembly Speaker Bambang Soesatyo opens the GPIB Synod forum in Bogor, last February. gpib.or.id
Rico and the pastor from Batam were not the only ones in their row who contracted the coronavirus. GPIB Synod Assembly 2nd Secretary Sheila Aryani Salomo said that, while initially reserved for synod forum organizers—a kind of central committee—the front row seats along the middle column were later occupied by a number of government officials attending the event. Sheila moved to the left column upon arrival of People's Consultative Assembly Speaker Bambang Soesatyo and Bogor City Mayor Bima Arya.
Seated on the front row, Bambang and Bima were accompanied by a panatua who was also the head of synod assembly. The panatua passed away on March 18. A GPIB organizer who was present in the occasion told that the panatua was seen communicating intensely with another priest during the forum. That priest recently died, as did another priest who shared a room with the panatua.
On March 19, Bima Arya announced that he had been positively diagnosed with coronavirus, three days after he returned from a visit to Turkey and Azerbaijan. On March 27, a Bogor City administration official also died of Covid-19. Bogor Deputy Mayor Dede Rachim said the official was part of a group who welcomed Bima Arya when he returned from his overseas visit.
It is not yet clear who was the suspected carrier of the virus during the forum in Bogor. Without a coronavirus test, Bima Arya explained to journalists that the church organizers did not pass away due to corona. He mentioned the head of the synod assembly accompanying him died of dengue fever.
However, aside from those in the front row, some synod participants seated along the middle and back rows also contracted the coronavirus. There are at least three persons who were diagnosed with corona after returning from the forum in Bogor. They are from Bekasi (West Java), Lampung, and East Kutai (Est Kalimantan). "We are looking into where they were seated," said Sheila Aryani Salomo.
The coronavirus has recently spread to GPIB congregation members who were not present in the synod forum. Marina -not her real name—a member of GPIB congregation in Serpong, South Tangerang, was diagnosed with Covid-19 since March 17. Marina is undergoing isolation in Karawaci Hospital. To Tempo, Marina said that she experienced a high fever on March 6. She was first diagnosed with common flu. Two days later, based on blood test, she was diagnosed with typhoid fever.
While she was feeling unwell, Marina attended two meetings, in Melawa Building, Serpong, and and the assembly office in GPIB Immanuel complex, Gambir, Jakarta. It was during these meetings that Marina said she encountered people who came to the gathering in Bogor. "But I could not be sure whether I contracted the disease from these meetings or not," she said.
The spread of the virus from the synod gathering in Bogor has given rise to a polemic among congregation members. In a limited Facebook group of GPIB organizers, named GPIB-Presbyter (Deacon-Panatua-Pastor), some members urge for transparency regarding the coronavirus victims. Moreover, the church's leaders are in contact with hundreds to thousand of congregation members. GPIB has hundreds of churches spread in various islands in Indonesia.
Sheila Aryani Salomo said GPIB management have issued some circular letters requesting congregations to postpone events and suspend Sunday service in churches starting March 15. "We also formed a special task force in response to this occurrence," she said.
Sheila also said that she consulted an expert staff member of the Health Ministry, Alexander Kaliaga Ginting, on March 12. Alexander, said Shelia, suggested the GPIB Synod Assembly to urge organizers who were present during the gathering in Bogor to undergo the test. Alexander confirmed of having talk with Sheila. "So that we could map participants with low, medium, and high risks," he said. A day after their coordination, the GPIB Synod Forum issued a circular letter urging participants of the forum to test and isolate themselves.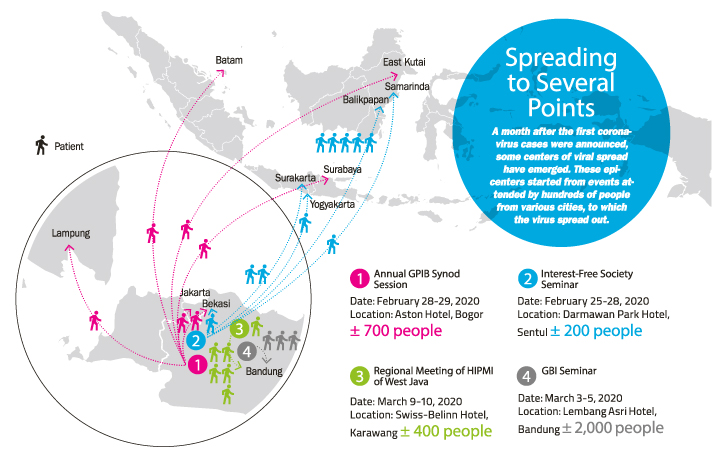 From the observation of the affected people and their spread, West Java Governor Ridwan Kamil said the GPIB Synod Assembly in Bogor is one of the epicenters of the virus' propagation. "If some people from the same event were identified as positive, it has to be a new cluster of infection," said Ridwan during an interview with Tempo on March 27. He also believes that some participants who contracted the virus remain unidentified because they do not feel symptoms, or have not undergone the test.
Ridwan also discovered another cluster, the West Java Young Entrepreneurs Association Conference (Musda Hipmi). Taking place in Swiss-Belinn Karawang Hotel on March 9 to 10, the event was attended by at least 400 participants. Ridwan was one of the government officials who were present. Ridwan discovered this Karawang epicenter when he tested all of his special staff members. The West Java administration brought in polymerase chain reaction (PCR) coronavirus testing tools from South Korea. Following a series of tests, a member of his staff was found positive for Covid-19. "I asked about (his) activities during the last week, turns out the person attended Musda Hipmi," said Ridwan.
The special staff member also revealed the names of officials in the conference who came in close contact. One of them was Bandung City Deputy Mayor Yana Mulyana. After being checked using the testing tool from South Korea, Yana was found to be positive with the coronavirus. Yana declared that he has recovered from the disease on March 27.
Tracing continued to officials who interacted with Yana. Ridwan's team found a photograph showing Yana sitting near Karawang Regent Cellica Nurrachadiana during the event. Cellica, a politican from the Democrat Party, took the test and was found to be positive as well. "I did not experience symptoms and am currently undergoing isolation in the hospital," said Cellica through her personal account in social media, March 25.
However, Cellica's symptoms had actually become apparent five days before. She was coughing when delivering a speech for the inauguration of a village head in her office. Cellica then asked her deputy, Ahmad Zamakhsyari, to continue the welcoming speech. She then moved to the side of the podium and drank an bottle of water given by her aide.
Other than these three individuals, a former member of the House and Representative and two West Java government officials also contracted the coronavirus after participating in the Hipmi conference in Karawang. West Java Hipmi Supervisory Board Chairman Jodi Janitra said his organization is attempting to trace those who might have had physical contacts with conference attendees that tested positive. "Every colleagues in the regions are also advised to take the coronavirus test," said Jodi.
RAYMUNDUS RIKANG, ROSSENO AJI, M.A. MURTHADHO (BOGOR), IQBAL LAZUARDI (BANDUNG), YOGI EKA SAHPUTRA (BATAM)
2020-03-31 10:45:25Z
https://magz.tempo.co/read/36540/spreading-far-from-bogor