Bogor city to jail those flouting large-scale social restrictions - ANTARA English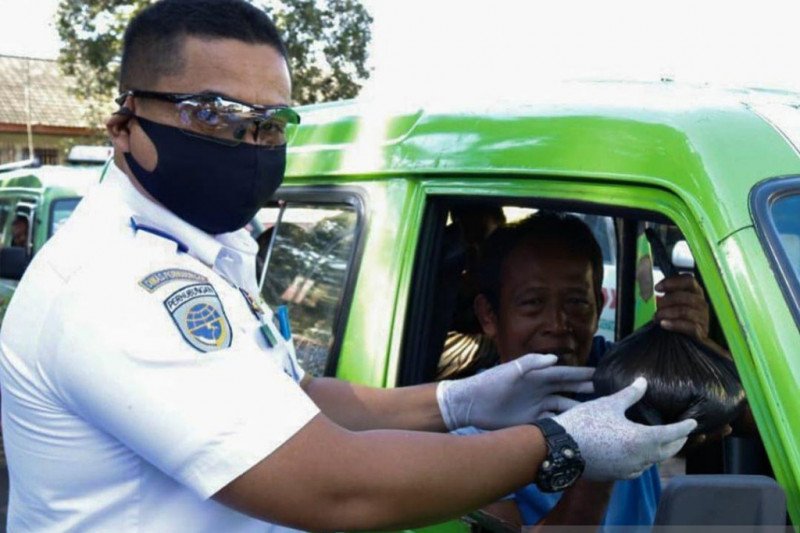 The legal sanctions are stipulated in the Bogor mayor's regulation referring to the 218 Health Quarantine Law
Bogor, W Java (ANTARA) - The Bogor city administration has informed that it would start enforcing large-scale social restrictions and distancing measures in the city from Wednesday, and violators would face legal action.
Those violating the restrictions would face imprisonment of one year and a fine of up to Rp100 million, head of Legal and Human Rights Office at the Bogor City Administration, Alma Wiranta, told ANTARA on Tuesday.
"The legal sanctions are stipulated in the Bogor mayor's regulation referring to the 218 Health Quarantine Law," Wiranta said, adding that the legal sanctions have been laid down in Articles 28 and 29 of the large-scale social restrictions and distancing policy.
Jakarta's provincial government has imposed large-scale social restrictions since April 10 for a period of 14 days to break the chain of the coronavirus pandemic.
The cities of Bogor, Depok, Tangerang, and Jakarta are economically and socially connected. A number of workers employed in Jakarta, regarded as the coronavirus epicenter in Indonesia, reside in Bogor, Depok, and Tangerang, as well as other buffer zones.
Related news: Health Minister sets large-scale social distancing in W Java areas
Related news: Jakarta first to enforce large-scale social distancing: Governor
According to Wiranta, if the violators are not residents, but companies, the legal sanctions would involve revoking of their business licenses and permits.
Wiranta also urged all parties in Bogor to respect the implementation of the large-scale social restrictions and distancing policy.
Considering the fact that COVID-19, which initially struck the Chinese city of Wuhan at the end of 2019, has spread to all 34 provinces of Indonesia, President Joko Widodo (Jokowi) on Monday declared the coronavirus outbreak a national disaster.
President Jokowi accorded national disaster status to the ongoing pandemic in a letter (number 12/2020) dated on 13 April, 2020, which highlights several points, including the appointment of head of the National Disaster Mitigation Agency (BNPB), Doni Monardo, to lead the COVID-19 task force.
The Task Force for the Accelerated Handling of COVID-19 will work on mitigating the impact of the pandemic through coordinated effort with the concerned ministries, government agencies, and regional administrations.
The letter has also named governors, district heads, and city mayors as the heads of the COVID-19 task forces in their respective regions. While drawing up regional policies, they will be required to refer to the policies formulated by the central government.
The national disaster status implies that in the phase of emergency response, the BNPB will use the budget allocated to it by the government.
As of early this week, Indonesia has reported 4,557 confirmed COVID-19 cases. While the death toll from the contagion has reached 399, a total of 380 patients have completely recovered from the infection and have been discharged from hospital.
Related news: Health Ministry regulations will apply for PSSB: task force
Related news: Health Minister approves PSBB in Pekanbaru to reduce COVID-19 spread
2020-04-14 15:10:33Z
https://en.antaranews.com/news/145957/bogor-city-to-jail-those-flouting-large-scale-social-restrictions