Temporary shutdown of Bogor's Yogya Junction Mall to control COVID-19 - ANTARA English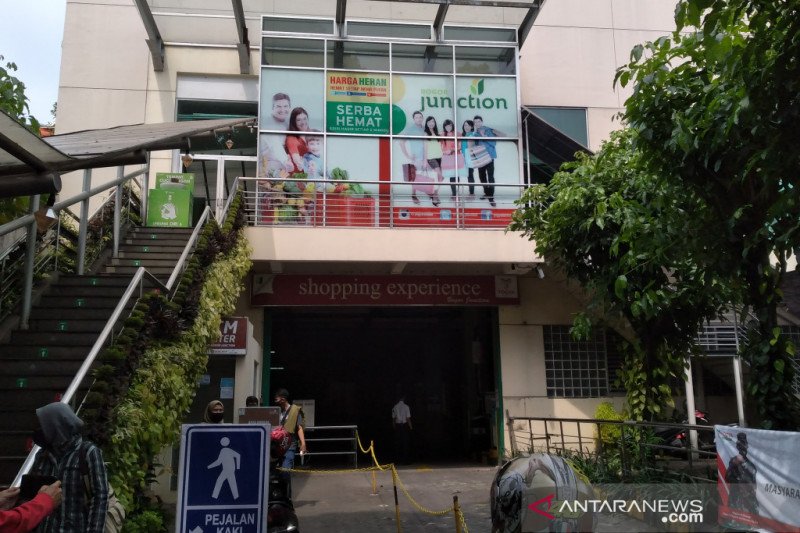 Bogor, W Java (ANTARA) - The Yogya Junction shopping mall in the heart of Bogor City, West Java Province, was temporarily shut down after a worker of one of its tenants tested positive for the novel coronavirus disease (COVID-19).
In response to this confirmed case, the shopping mall operator has coordinated with the Bogor City administration's COVID-19 Task Force officials in an endeavor to contain the spread of the deadly virus, Bogor Area Director of Yogya Junction Endang Yudi remarked.
"We have been requested to close the mall for the time being and conduct swab tests for the workers to break the chain of COVID-19 transmission," Yudi noted here on Monday.
The worker diagnosed with COVID-19 symptoms is a sales promotion girl employed by one of the tenants from a clothing cluster. She was one of the 155 workers, who partook in a rapid test program that the management had held on July 9.
The female employee was confirmed to have contracted COVID-19 as revealed by the result of her swab test released by the Bogor city public hospital, Yudi noted.
The Yogya Junction operator concurred on shutting down the shopping mall for three days while all workers underwent swab tests on Monday (July 13).  
"We are awaiting directives of the Bogor city administration's COVID-19 Task Force," Yudi noted.
In June, the Bogor city administration's COVID-19 Task Force had also urged the management and employees of a Mitra 10 outlet to undergo swab tests after three workers at the independent hardware store tested positive for coronavirus.
The Bogor city government has been working ceaselessly to flatten the curve of COVID-19 infections. Owing to its geographical proximity to Jakarta, Bogor is economically and socially connected to the Indonesian capital, as several workers employed in Jakarta reside in Bogor.
At the outset, coronavirus infections were reported in the Chinese city of Wuhan at the end of 2019.
COVID-19 thereafter spread to over 215 countries and territories, including 34 provinces of Indonesia, with a substantial increase in the death toll.
The Indonesian government officially confirmed the country's first confirmed cases on March 2 this year.
As of Sunday (July 12), Indonesia had recorded 75,699 COVID-19 patients, with 35,638 recoveries and 3,606 deaths.
The virus has spread across the country's provinces, with the highest number of cases recorded in East Java, reaching 16,658, followed by 14,517 in Jakarta, 6,973 in South Sulawesi, 5,473 in Central Java, 5,077 in West Java, 4,146 in South Kalimantan, 2,653 in South Sumatra, 2,323 in North Sumatra, 2,267 in Papua, 2,195 in Bali, 1,660 in North Sulawesi, 1,593 in Banten, 1,550 in West Nusa Tenggara, and 1,196 in Central Kalimantan.
EDITED BY INE
Related news: Imposing controls on inter-state vehicular, people movements crucial
Related news: Indonesia records 1,671 fresh COVID-19 cases, 1,190 recoveries
2020-07-14 04:30:02Z
https://en.antaranews.com/news/152306/temporary-shutdown-of-bogors-yogya-junction-mall-to-control-covid-19