Bogor regency faces backlog of 1,000 unexamined COVID-19 swab samples - The Jakarta Post - Jakarta Post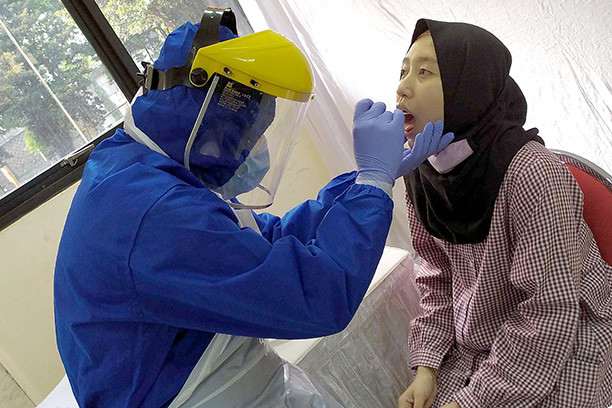 Some 1,000 unexamined COVID-19 swab samples have piled up at the regional health laboratory (Labkesda) in Bogor regency, West Java, as the number of cases in the regency continues to increase.
Bogor Regent Ade Yasin said the samples had begun piling up toward the end of September because of the laboratory's limited polymerase chain reaction (PCR) examination tools, urging the Bogor Health Agency to accelerate its handling of the samples.
"The health agency must explain how many PCR kits are available now and immediately activate the Labkesda," said Ade in a performance evaluation letter on Wednesday, as quoted by kompas.com.
The number of daily new cases in Bogor regency increased sharply in early October, with a record number of additional cases ranging from 20 to 60 people a day.
Read also: Government to periodically evaluate COVID-19 swab test price cap
Ade expressed concern that the delay in PCR testing would increase the spread of COVID-19 in districts categorized as "red zones". "There is a delay in information about whether the residents are confirmed to be positive or not," he said.
According to Ade, the regency has conducted PCR tests on 21,986 samples during the pandemic, far from the target of 60,000 samples, or 1 percent of the population of nearly 6 million people in Bogor regency.
Ade said the regency was currently testing 200 samples a day, below the target of 300 to 400 samples a day.
Bogor regency has six PCR testing machines, but four are reportedly unusable.
The working PCR machines are located in public hospitals in Ciawi, Cibinong, Cileungsi and Leuwiliang. Meanwhile, the other two units are in the Cibinong Labkesda and a mobile Biosafety Level-2 laboratory. (syk)
2020-10-08 08:03:00Z
https://www.thejakartapost.com/news/2020/10/08/bogor-regency-faces-backlog-of-1000-unexamined-covid-19-swap-samples.html