Jokowi receives US Secretary of State Pompeo at Bogor Palace - ANTARA English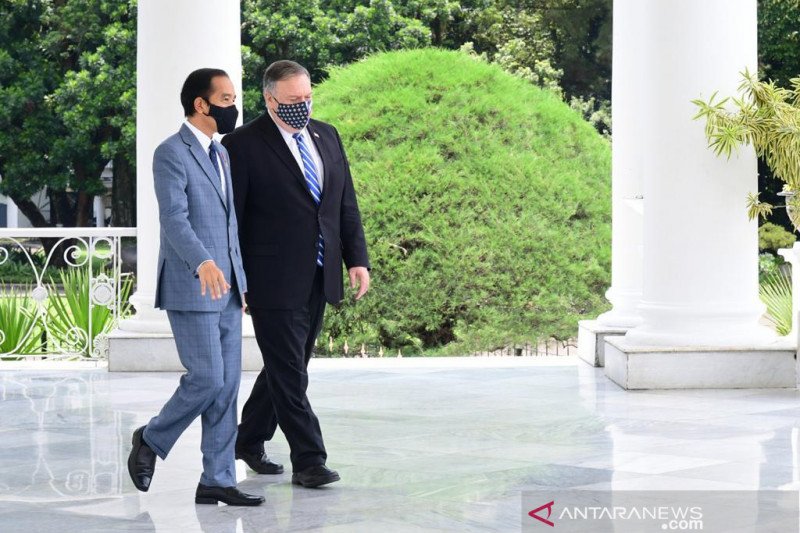 Jakarta (ANTARA) - President Joko Widodo (Jokowi), on Thursday, received US Secretary of State Mike Pompeo at the Bogor Presidential Palace, West Java Province.
During a meeting with Pompeo, Jokowi affirmed that the visit amid the COVID-19 pandemic reflected the true essence of a strategic partnership between Indonesia and the US.
The president pointed to the rising intensity of mutual visits of both Indonesian and US officials during this pandemic.
"Your visit in the midst of this pandemic demonstrates the meaning of a strategic partnership between Indonesia and the US. During this pandemic, the mutual visits between our officials were quite intensive, and I can convey the most intensive ones," the president noted during in a video broadcast by the Presidential Secretariat.
At the palace, Pompeo was greeted by Indonesian Foreign Minister Retno Marsudi before being received personally by President Jokowi.
President Jokowi also invited Pompeo to the veranda of the Bogor Presidential Palace to witness and experience up-close the ambience. The duo engaged in a conversation at the veranda before entering the meeting room.
The visit to Indonesia is part of Pompeo's overseas trips to Asia. Pompeo had visited India, Sri Lanka, and the Maldives prior to arriving in Indonesia.
Prior to Pompeo's visit, both nations' high-ranking officials had undertaken exchange visits, including a visit by the US Deputy Secretary of Defense and a delegation from the US International Development Finance Corporation (DFC) to Indonesia, as well as the recent visit of Indonesian Defense Minister Prabowo Subianto to the US. Related news: Indonesia wants United States of America to be its true friend
Related news: Indonesian defense minister invited to visit US on Oct 15-19
 
EDITED BY INE
2020-10-29 08:40:57Z
https://en.antaranews.com/news/160109/jokowi-receives-us-secretary-of-state-pompeo-at-bogor-palace