President Jokowi warmly welcomes PM Suga at Bogor Palace - ANTARA English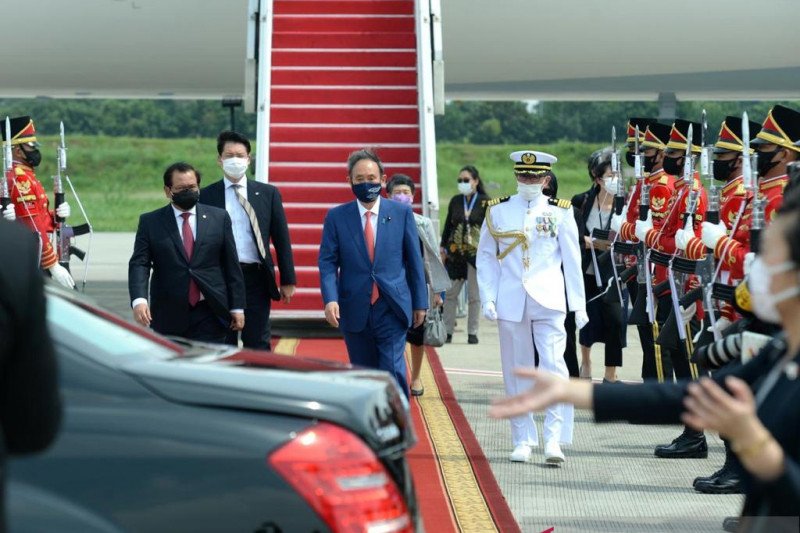 Jakarta (ANTARA) - Indonesian President Joko Widodo (Jokowi) and First Lady Iriana Joko Widodo warmly received Japanese Prime Minister Yoshihide Suga and First Lady Mariko Suga at the Presidential Palace in Bogor, West Java, on Tuesday afternoon. The Japanese premier and his wife were received by cabinet secretary Pramono Anung at the Soekarno Hatta International Airport. They then boarded a presidential motorcade and headed to Bogor.
They arrived at the presidential palace around 4 p.m. local time and were received by the Indonesian President and First Lady. An official welcoming ceremony was organized in their honor.
Shortly after attending the welcoming ceremony, the two leaders and first ladies had a photo session. Then, as scheduled, Prime Minister Suga signed the official visitors book, and had a tête-à-tête with the Indonesian President.
Following the bilateral meeting, President Jokowi and the Japanese premier were scheduled to make a joint press statement.
President Jokowi said the visit of Prime Minister Suga and his wife symbolized a strong commitment to boosting Indonesia and Japan's bilateral cooperation and implementing their strategic partnership.
Prime Minister Suga's visit to Indonesia in the midst of the coronavirus pandemic is the first visit by a world leader to the country.
After his election by Japan's parliament following Shinzo Abe's surprise resignation on September 16, 2020, Suga's first overseas visit has been to Viet Nam and Indonesia.
Before arriving in Indonesia, Prime Minister Suga visited Hanoi, the capital city of the Socialist Republic of Viet Nam, on October 18, 2020.
According to the Japanese prime minister's official website, he attended a welcoming ceremony on October 19, 2020 (local time), and followed it up with a meeting with Vietnamese Prime Minister Nguyen Xuan Phuc.
Afterwards, the leaders held an exchange of documents ceremony and a joint press announcement in relation to grant assistance. During his visit, Prime Minister Suga also met with Nguyen Phu Trong, general secretary of the Communist Party of Viet Nam.
He also enjoyed a stroll with Prime Minister Phuc at the late President Ho Chi Minh's Stilt House. In the afternoon, he gave a policy speech at the Vietnam-Japan University and engaged in a frank and candid discussion with students.
Suga offered flowers at the Martyrs' Monument and the President Ho Chi Minh Mausoleum before meeting with several top figures, including Mdm. Nguyen Thi Kim Ngan, chairwoman of the National Assembly of the Socialist Republic of Viet Nam.
Later, the Japanese premier held a press conference on the Japan-Vietnam summit and other events. (INE)
Related news: Indonesia welcomes upcoming visit of Japanese Prime Minister Suga
Related news: Jokowi administration offered incentives, facilities to MSMEs
 
EDITED BY INE
2020-10-20 13:40:21Z
https://en.antaranews.com/news/159433/president-jokowi-warmly-welcomes-pm-suga-at-bogor-palace