Bogor's 40 sub-districts to get 240 free Wi-Fi spots - ANTARA English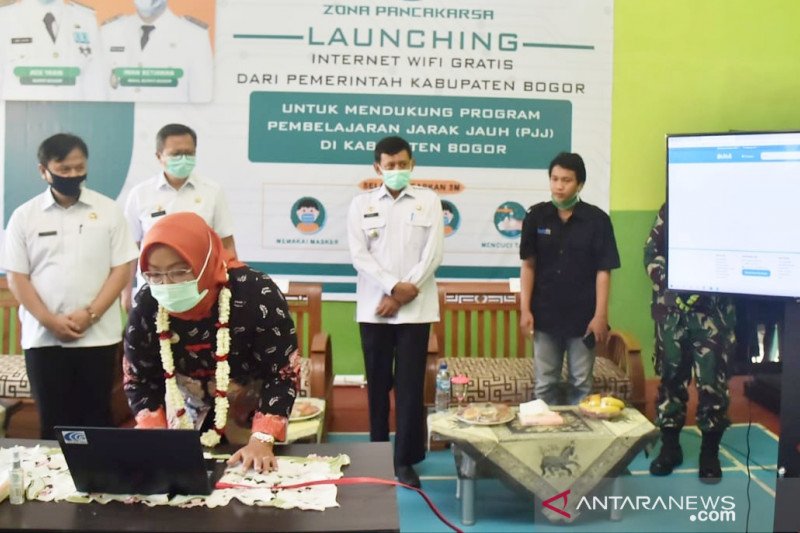 Cigudeg, W Java (ANTARA) - Bogor local government is installing 240 free Wi-Fi spots in 40 sub-districts to serve locals and enable students residing in blank spots to follow the government's long-distance learning program amid the novel coronavirus disease (COVID-19) pandemic.
"The free Wi-Fi facilities are installed to fix 240 blank spots," Bogor District Head Ade Yasin told journalists after the launch of the "Zona Pancakarsa" Program in Cigudeg Sub-district, West Java, on Thursday.
The public can avail these free Wi-Fi spots before the end of 2020, Yasin, concurrently heading the Bogor district administration's COVID-19 Task Force, stated.
The COVID-19 pandemic situation has compelled the Bogor district government to implement an online learning system instead of physical attendance of students in class. This policy has been adopted to halt the potential spread of COVID-19 among the students and teachers.
"We are aware of the various challenges we are facing in implementing the long-distance learning mode, such as insufficient infrastructure and lack of effectiveness of learning methods," she revealed.
Related news: Students, universities cope with challenges as classes move online
Related news: Online schooling for offline Hasya
In addressing this reality, Yasin urged related stakeholders to bolster their synergy to enhance the implementation of the government's mandated long-distance learning program amid the COVID-19 pandemic situation.
The presence of free Wi-Fi spots, under the Zona Pancakarsa Program, is also expected to encourage local residents to boost their online business activities, she explained.
According to the Indonesian Ministry of Education and Culture, the coronavirus pandemic has compelled the country's some 68 million students -- from preschools to high schools -- to learn from home.
Jumeri, the director-general of preschool, elementary, and middle schools at the ministry, recently revealed that some 10 percent of the 68 million Indonesian students, or some 6.87 million, are preschoolers.
Related news: In 2020, 138 free WiFi spots to be available in Jayawijaya
COVID-19 initially struck the Chinese city of Wuhan at the end of 2019 and thereafter spread across the world, including to countries in the Asia-Pacific region.
The Indonesian government made an official announcement on the country's first confirmed cases on March 2 this year. Since then, all students, including those at universities, are required to learn from home and through the long-distance learning mode.
To help it win the fight against the COVID-19 pandemic that has posed a serious threat to public health and the economy, the Indonesian government has consistently expressed confidence in the potential of COVID-19 vaccines.
Coordinating Minister for Maritime Affairs and Investment Luhut Binsar Pandjaitan recently disclosed that the COVID-19 vaccination would likely commence in the third week of December 2020 as opposed to the early scheduled period of November.
Related news: Minister readies Rp34.23 tln funding for COVID-19 vaccine procurement
Related news: Clinical trial of Sinovac-manufactured vaccine in Indonesia safe
 
2020-11-12 12:50:13Z
https://en.antaranews.com/news/161240/bogors-40-sub-districts-to-get-240-free-wi-fi-spots