Jokowi witnesses COVID-19 vaccination simulation in Bogor - ANTARA English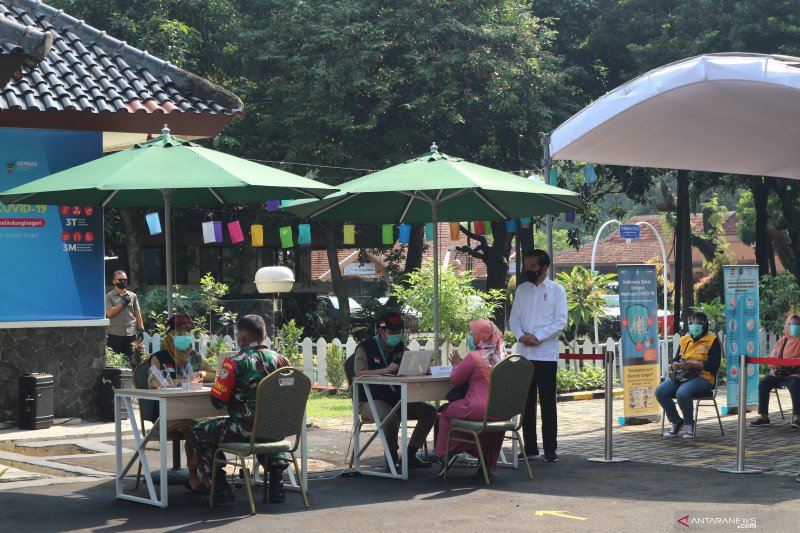 This morning, I came to the Puskesmas in Tanah Sereal in Bogor City because yesterday, I heard of the simulation for vaccination being conducted
Jakarta (ANTARA) - President Joko Widodo (Jokowi) witnessed a simulation of the COVID-19 vaccine immunization held at the "Harapan Keluarga" community health center (Puskesmas) in Tanah Sereal, Bogor, West Java Province.
"This morning, I came to the Puskesmas in Tanah Sereal in Bogor City because yesterday, I heard of the simulation for vaccination being conducted," Jokowi noted here on Wednesday.
The president arrived at the Puskesmas at 8:21 a.m. local time in the company of Minister of Health Terawan Agus Putranto and Mayor of Bogor Bima Arya.
The head of state then reviewed the community that partook in the simulation. The participants came from various backgrounds, including traders, housewives, civil servants, and online motorcycle taxi drivers.
Participants sat on seats at a distance and awaited their turn in the queuing system.
The participants then approached several tables to check their identity and health condition for the presence of congenital diseases or comorbidities.
After the identities and health conditions of the participants were checked, they then entered the Puskesmas to be administered the COVID-19 vaccine.
"Since I live here, I visit this Tanah Sereal Community Health Center," Jokowi, who lives at the Bogor Presidential Palace, noted.
The government has signed an agreement to procure 143 million doses of vaccine concentrate from China's Sinovac, Sinopharm, and CanSino pharmaceutical companies, respectively 65 million and 15 million to 20 million. The vaccine is planned to be produced by state-owned company PT Bio Farma.
Apart from China, Indonesia has collaborated on vaccine development with the G-24 technology company from the United Arab Emirates (UAE) in mid-August, with a plan to supply10 million doses of the vaccine in collaboration with Indonesia's state-owned pharmaceutical company PT Kimia Farma.
Moreover, 100 million doses of the COVID-19 vaccine will be obtained from AstraZeneca. The first shipment is scheduled in the second quarter of 2021.
Concurrently, the Eijkman Institute for Molecular Biology (LBM) is also developing the Red and White vaccine as a domestically made COVID-19 vaccine that differs from the Sinovac COVID-19 vaccine.
Related news: Indonesia aiming for COVID-19 immunization in Dec end
Related news: Doni Monardo stresses on safety of people being supreme law
Related news: Indonesia records 3,807 fresh COVID-19 cases, 3,193 recoveries
2020-11-18 04:58:23Z
https://en.antaranews.com/news/161756/jokowi-witnesses-covid-19-vaccination-simulation-in-bogor