President witnesses mass COVID-19 vaccination in Bogor - ANTARA English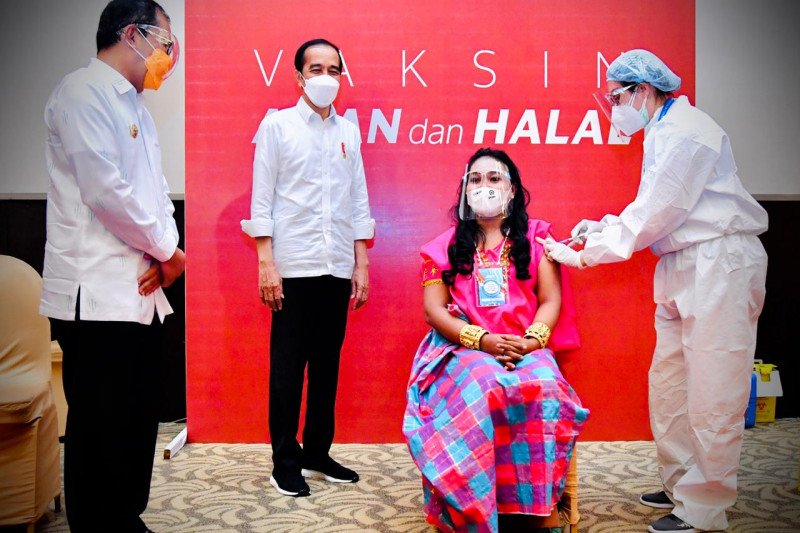 Jakarta (ANTARA) - President Joko Widodo (Jokowi) bore witness to mass COVID-19 vaccination being conducted for public service officers and community leaders in Bogor City, West Java, on Friday.
The head of state, in the company of Health Minister Budi Gunadi Sadikin, West Java Governor Ridwan Kamil, and Bogor Mayor Bima Arya Sugiarto, observed the implementation of mass vaccination.
Widodo approached the registration desk and examination table and witnessed up-close the process of vaccine administration and greeted residents awaiting the post-vaccination observation process.
"Everything went well and in the city of Bogor today, at this place, approximately 500 public servants will be vaccinated to then be followed by the inoculation of pilgrims, religious leaders, and community leaders," the head of state noted at Puri Begawan, Bogor.
"We are optimistic that this would also accelerate the vaccination process nationally as what I saw yesterday was for example in Makassar City, in Tana Toraja District, everyone moved. Today, in Bogor City, mass vaccination is conducted on a large scale, both here and elsewhere," he remarked.
President Jokowi is optimistic that the number of vaccine recipients would increase to help build herd immunity against COVID-19.
"We are optimistic of reducing the rate of transmission of COVID-19 in our country," he affirmed.
The head of state is then scheduled to inspect the implementation of the drive-through vaccination service at the Pajajaran Sports Hall, Bogor City.
According to data from the COVID-19 Handling Task Force on Thursday (Mar 18), some 4,848,752 residents received the first injection of the vaccine and 1,948,531 residents had received the first and second injections or had completed vaccination.
The number of residents, who have received the COVID-19 vaccine injection, is still far from the government's target of vaccinating 181.5 million people to achieve herd immunity against COVID-19.
Indonesia had earlier witnessed a drop in the nationwide trend in COVID-19 infections, spokesperson for the Task Force for Handling COVID-19 Wiku Adisasmito stated.
"Currently, the trend of COVID-19 cases nationally is decreasing. This shows a change in the situation for the better, with a declining trend in transmission," Adisasmito noted during an online press conference here on Thursday.
Despite the government's unwavering efforts to improve accuracy of the data to 100 percent to capture the real situation, the trend is still quite valid, on account of the improving global trend, the spokesperson remarked.
Related news: Jokowi witnesses mass vaccinations at Tana Toraja health centers
Related news: President elicits support for vaccine development
  EDITED BY INE
2021-03-19 06:28:40Z
https://en.antaranews.com/news/170406/president-witnesses-mass-covid-19-vaccination-in-bogor