Regions can emulate Bogor's drive-through vaccination facility: Jokowi - ANTARA English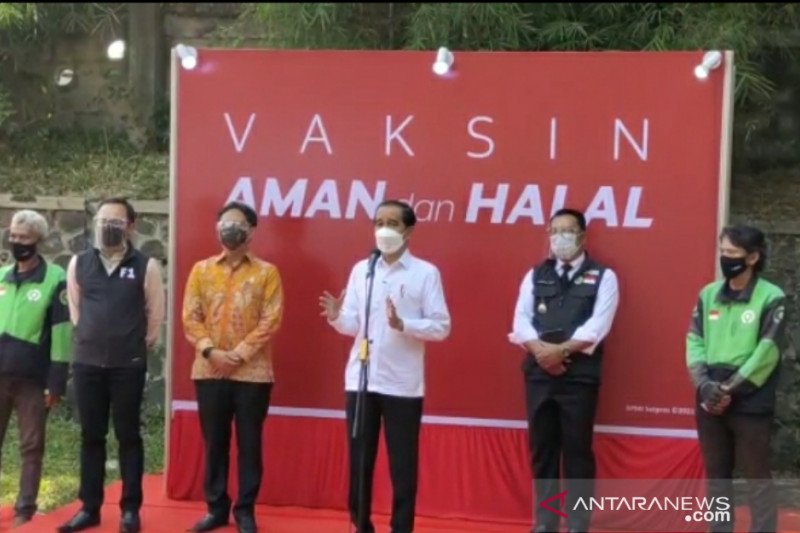 I see this drive-through vaccination conducted by Bogor City Administration has run smoothly.
Bogor, W Java (ANTARA) - The drive-through vaccination services offered to the elderly in Bogor, West Java could serve as a model for other Indonesian regions, President Joko Widodo (Jokowi) has said.
"I applaud and thank Bogor City that has conducted COVID-19 vaccination in a different way to facilitate targeted citizens," he remarked while observing mass vaccinations at the Padjajaran Sport Hall in Bogor, West Java on Friday.
Wearing a long-sleeved white shirt, Jokowi observed all the steps at the drive-through vaccination facility for the elderly, starting from their registration, screening, inoculation, and observation.
"I see this drive-through vaccination conducted by Bogor City Administration has run smoothly," he said.
During his visit, the President also chatted with some senior citizens who received vaccine jabs, including a 92-year-old citizen.
The Bogor Health Office has been conducting the drive-through vaccinations for the elderly.
According to the Health Office, the city has provided around 22 thousand vaccine doses for the second stage of vaccinations, while the number of senior citizens in the city has been pegged at 61,178.
Earlier in the day, Jokowi witnessed a mass COVID-19 vaccination program for public service officers and community leaders in Bogor.
Accompanied by Health Minister Budi Gunadi Sadikin, West Java Governor Ridwan Kamil, and Bogor Mayor Bima Arya Sugiarto, Widodo observed the registration desk and examination table and witnessed the process of vaccine administration up-close and also greeted residents awaiting post-vaccination observation.
"Everything went well and in the city of Bogor today, at this place, approximately 500 public servants will be vaccinated to then be followed by the inoculation of pilgrims, religious leaders, and community leaders," he noted at Puri Begawan, Bogor.
"We are optimistic that this would also accelerate the vaccination process nationally as what I saw yesterday was, for example, in Makassar City, in Tana Toraja district, everyone moved. Today, in Bogor City, mass vaccinations was conducted on a large scale, both here and elsewhere," he remarked. (INE)
Related news: Health Ministry, Halodoc jointly organize drive-thru vaccination
Related news: President witnesses mass COVID-19 vaccination in Bogor
EDITED BY INE
2021-03-19 10:38:49Z
https://en.antaranews.com/news/170438/regions-can-emulate-bogors-drive-through-vaccination-facility-jokowi